AMSOIL Distributor
Click the arrows to the left and right to scroll through the panels.

No other oil protects against wear better than AMSOIL

Reformulated, Repackaged XL Synthetic Motor Oils!
Previous
Next
Welcome to BestSynthetic.com! - Your source for AMSOIL Synthetic Motor Oil.
The big oil companies offer lots of slick fluffy marketing claims like "Nothing outperforms Mobil 1", but offer no proof or facts. The truth is, AMSOIL synthetic oil outperforms Mobil 1 and all other conventional and synthetic lubricants. And we have the proof to back it up. They don't, which is why they can only use slogans. AMSOIL, the First in Synthetics.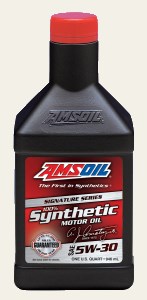 "Our Company makes the best lubricants in the world, period, and challenges anyone or any company to prove us wrong! That won't happen because our competitors know it's true." -A.J. Amatuzio, President & CEO.

Wear prevention is an engine oils primary and most important job. No other motor oil protects against wear better than AMSOIL. PERIOD! Not only did AMSOIL bring you the first synthetic, they were the first to introduce the concept of extended drain intervals. Can you name ONE other oil company that will GUARANTEE their product for 25,000 miles? AMSOIL has been doing so for over 35 years.

Whether you're a car owner looking for premium synthetic motor oil, a business owner looking to add a successful product line to your shelves or a fleet owner looking to cut your operating expenses, we hope you'll find everything you're looking for here. Tour our site and learn the facts! Compare AMSOIL's performance and properties to the other guys. Yes, AMSOIL costs more, but remember, you ALWAYS get what you pay for. But as you will see, using AMSOIL synthetic oils will actually save you money, and you'll be giving your engine the best protection you can buy at the same time!

At BestSynthetic.com, our goal is to be the most informative AMSOIL Dealer website on the web, which includes not just information on AMSOIL products, but educating people about synthetics, lubrication, car care and more. Please contact us with any questions or suggestions at any time.
The Company of Firsts!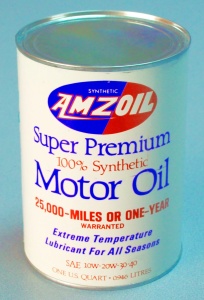 First to develop an API-rated 100 percent synthetic motor oil.
First to introduce the concept of "extended drain intervals" with a recommended 25,000-mile/1-year drain interval.
First U.S. company to utilize the NOACK volatility test as a standard of performance excellence.
First to produce synthetic motor oils for diesel engines, racing engines, turbo and marine engines.
First to introduce synthetic oils that legitimately contribute to improving fuel efficiency.
First to manufacture synthetic gear lube for automotive use.
First to manufacture a 100:1 pre-mix synthetic 2-cycle oil.
First to manufacture a synthetic automatic transmission fluid for automotive use.
AMSOIL and Racing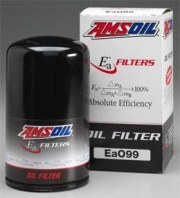 Many oil companies produce specialty racing oils for elite groups and do not offer them to the general public. For instance, several popular oil manufacturers produce racing oils offered only to NASCAR racers. AMSOIL receives inquiries as to why the company does not offer "special," higher-quality or NASCAR oils.

However, all AMSOIL synthetic motor oils are already formulated to a higher level than competitors' oils, and AMSOIL Dominator Synthetic Racing Oils are no exception. They provide maximum performance and superior protection to all racers, regardless of their level of competition. The same AMSOIL Dominator Synthetic Racing Oils that are used in the engines of AMSOIL corporately-sponsored racers such as Scott Douglas and Brady Smith are available to everyone.

Every professional race car in the world uses synthetics, and most of them have been using AMSOIL for decades. Many have a lot of money at stake with their "big oil" sponsors, who want you to believe that what is advertised on the car is what's running in the engine.

Indy Car racing legend Bobby Unser spoke at the AMSOIL 30th Anniversary Convention. Unser is a 3-time Indy 500 winner, has 25 overall Indy Car wins and is a 13-time Pikes Peak Hill Climb winner. He told the audience how his race car differentials could not survive more than one race up Pikes Peak without needing to be rebuilt, until he started using AMSOIL lubricants. This experience in Bobby's early years of racing began his long relationship with AMSOIL synthetic motor oil and lubricants in all his race cars. Bobby went on to say that "AMSOIL is the Best Synthetic Lubricant made, the Standard to which all others are judged." Hear it from Bobby himself in the video below.

Extended Drain Intervals mean Less Waste Oil, Less Pollution, a Cleaner Environment
"Improperly disposed used oil," according to the Environmental Protection Agency, "is the largest single source of oil pollution fouling our nation's waters. According to the American Petroleum Institute, it amounts to "up to 200 million gallons of used motor oil... dumped every year down sewers, drains or in the ground." API reminds us, too, that, "A single quart of oil can foul thousands of gallons of water."... Continue reading this article
---
AMSOIL News Updates
What Makes Aaron Rodgers Such A Great Quarterback
Last night Aaron Rodgers of the Green Bay Packers threw his 200th touchdown pass. It only took 99 games to achieve this milestone and only one passer in NFL history accomplished this feat more quickly. The week before against the Chicago Bears Rodgers reached the 25,000 yards passing milestone, and this was accomplished faster than any player in history, bar none.
What is it that makes athletes like Rodgers exceptional? Is there a common denominator in great hitters, great infielders, great goalies, great quarterbacks and great race car drivers. And is there a way we can use this information to become exceptional ourselves?
Lambeau Field end zone.
There are undoubtedly many qualities that contribute to success, but one in particular that seems especially common to all is the ability to anticipate. Alertness, focus, anticipation. Here's
an excerpt from a blog called Axon Potential
which deals with the mindset of athletes:
"Based on athletes' reports and technology that tracks their eye movements, we know that athletes anticipate what's coming next by focusing only on the most relevant cues in an opponents' movement pattern. And that this skill changes and becomes refined with training. The eyes of novices are all over the place, whereas athletes' focus is much more targeted and economical. Across a number of different sports, expert athletes demonstrate similar "visual search strategies". Their eyes focus on fewer targets, jump around less, and they stay focused for longer periods of time than do the eyes of novices."
This is a fascinating concept because in a world filled with a gazillion pieces of information flying at us from all directions, how do we process it all? The key for Aaron Rodgers when he faces down 11 defenders has more to do with which information not to process, and identifying the right cues so as to obtain the most effective result. Crowd noise and stunt maneuvers by defensive linemen are all distractions.
In a world filled with marketplace noise, your ability to make wise decisions can be compromised when you lose focus. When it comes to maintenance of your vehicles and other equipment, you can count on AMSOIL to give you reliable information. Bookmark
AMSOIL.com
and know that we're committed to providing you with information that is reliable, both on our website or when you need to call our technical staff regarding a more complicated issue.
If you're not familiar with our story, a great place to begin is
amsoil.com/about
.
(c) Can Stock Photo
-
Breaking News! Top Truck Challenge Episode 1 Is Live
"Thousands of tired, nerve-shaken, over-civilized people are beginning to find out going to the mountains is going home; that wilderness is a necessity..." ― John Muir
Top Truck Challenge is one of the great events that happens every spring and with the advent of the internet we can relive it all throughout the year beginning this week on Motor Trend's YouTube Channel. The powers that be at The Enthusiast Network (publishers of Hot Rod, Four Wheeler and other high profile enthusiast magazines) has cut a swath across cyberspace and is eager to share the exciting content they once only presented in print.
This week's release of five episodes has totally different content than the DVD which will be available soon. Follow along and see what the Four Wheeler Top Truck Challenge has become one of the most exciting events in off-roading.
Enjoy!!!
-
Day Three of the AMSOIL Engine Masters Challenge is in the books.
Students assist with a teardown in the staging area.
It's the end of Day Three already as the 2014 AMSOIL Engine Masters Challenge moves toward its culmination. Presenting sponsor Hot Rod magazine is all over this event with publishers, editors, a media team and assorted staff overseeing the action.
As in years past, forty students from the University of Northwestern Ohio have the privilege of assisting with moving engines from the staging area, hooking them up on the dynos and helping with the teardowns afterwards.It's a great learning experience that would be near impossible to replicate in the real world. Most young builders will get their first jobs in an environment that does things certain way. A later job might teach them new tricks. But here, these young people can work with 30 builders who each apply different techniques and secrets for maximizing power.
When asked what he's learned from his involvement with the Engine Masters Challenge, Michael Kilgore, a student from Jacksonville, Florida stated, "I've learned how technical you have to be with the all the particulars with the parts, and how mathematical you have to be with it. Everybody has their way of doing things, everybody has a specific way they want to do it, so you learn different methods. You have to listen to every engine builder and see what they do and what they want to do. So you take all that and add it together for yourself."
The process runs like this. Engines are unloaded into the staging area. The crated engines are uncrated, placed on cradles on dollies. At the appointed time, each team's engine is rolled to one of the two dyno cells where the engines are hooked up. No one is inside the room when the engine is run through its paces, watching the activity through a large window with shatterproof glass.
On the first four days of the competition the objective is to become one of the top six finalists who will go for the gold on Friday. Or rather, the big check, and the prestige that accompanies earning the title of Engine Master. Those top engines are conveyed to a locked room where they cannot be tampered with between their first runs and the final event. Tomorrow will be dramatic as top builders push their way in and crowd someone else out.
Dyno operator Sidney Bonnecarrere is back in the driver's seat here in the dyno cells. Sidney ensures that every run gets loaded and pushed through identical paces from 2500 rpm to 6500 rpm. Bonnecarrere does all the throttle work on all the dynos throughout the week with a detached objectivity to maximize fairness. Each builder team and EMC staff watch from the control room where the measurement equipment spits out data.
Although each team still has only thirty minutes to run through their paces, there has been a change in the rules regarding how that time is used. In the past they would get three warm up pulls, after which the team would have three minutes to study the data. They were then allotted fifteen minutes to make adjustments. When this time is up, three more dyno pulls are completed and those numbers were final. This year, however, teams can make as many pulls as they want in the allotted half hour, and choose the best numbers from any pull in the batch. We're certain that this will result in some intriguing new strategies, as we have already seen.
The competition director is again Wesley Roberson of West Monroe, Louisiana who has served with the NHRA since 1968. According to Ed Zinke, publisher of the performance group of magazines with TEN, this competition is significantly different from timed engine building events. And this year's competitors, he noted, are running very tight numbers. It will be interesting, as always, to see what the next day will bring.
To see day by day action and constantly updated results, visit
blogs.hotrod.com/engine-masters-2014-results-144451.html
Randy Malik of R.M. Competition after his run.
Semco Performance grinding out the numbers.
-
Congratulations to Tony Bischoff and BES Racing Engines... 5X Engine Masters Champion
When Jon Kaase looked at his numbers after his dyno run on day four of the 2014 AMSOIL Engine Masters Challenge he seemed crestfallen. He brought a powerful engine to the game, but when all was said and done after Thursday's end of the day run his gut told him he'd be coming up short in the final showdown.
Tony Bischoff (center) watches the numbers with BES Racing Engines on the block.
Sure enough, his instincts were keenly attuned to what was going on, and when the final story had been told, he didn't have it this year. Tony Bischoff started the final day with ginormous numbers and by day's end his score was insurmountable.
Congratulations, Tony. 5X Engine Master has to feel pretty good.
There was still a lot of power on display in the finals. When all was said and done, here's how it all shook out.
1) SCORE: 3017.4
ENTRY: BES Racing Engines ENGINE: 401ci Gen III Hemi
AVERAGE PEAK POWER: 688.67 horsepower, 611.67 lb-ft
2) SCORE: 2920.9
ENTRY: Bradley Built Engines ENGINE: 417ci Gen III Hemi
AVERAGE PEAK POWER: 699.07 horsepower, 615.70 lb-ft
3) SCORE: 2913.5
ENTRY: "Also BES," John Lohone ENGINE: 401 LS
AVERAGE PEAK POWER: 674.00 horsepower, 595.33 lb-ft
4) SCORE: 2904.1
ENTRY: School of Automotive Machinists ENGINE: 436ci LS
AVERAGE PEAK POWER: 725.33 horsepower, 644.00 lb-ft
5) SCORE: 2875.4
ENTRY: Jon Kasse Racing ENGINE: 404ci Kaase Boss 9
AVERAGE PEAK POWER: 677.33 horsepower, 597.00 lb-ft
For more details, and photos,
visit the Hot Rod Blog
.
Here are some additional shots from Lima, Ohio last week.
The Bradley Built Engine had some cool Brazilian technology affixed.
The local media dropped by to put our story on the evening news.
That's an oil pan, not a bed pan. All week the staff was exceedingly helpful.
John Lohone, like the other top guns, had double plugs per cylinder.
This was a first EMC for Hot Rod editor David Kennedy, here addressing the banquet.
The Brad Nagel made an impressive run, but came up short.
-
Joe Carroll Talks About Engine Building and AMSOIL
Many of the builders here are modest, and highly respected, among them Joe Carroll of Stonewall, Louisiana. According to competition director Wes Roberson he's a very astute builder. "He does very detailed work and leaves very little to chance."
After pulling some strong numbers we took a few minutes to learn more about his passions.
How did you get into Engine Building?
Joe Carroll: I used to work at an engine shop years ago, and it's turned into a hobby. I'm a lineman, that's how I make my living. If I had to build engines for a living then I'd probably be living in a cardboard box somewhere. It's a hobby, it's kind of a passion that me and some friends of ours do.
How did you get into Engine Masters?
JC: We began coming to Engine Masters when a friend of mine came in 2006 and we went to NYC and fell in love with the idea and the people around. It's kind of turned into a family reunion every year so we just enjoy coming up here visiting, bringing a piece and see how we stand up against everybody.
Have you been coming every year?
JC: We've come every year since 2006. We came with our own piece in 2007 and have been here ever since.
Your take on AMSOIL?
JC: We love the Break-In Oil. We tried some before in another brand and the motor would kind of huff for a while when we did a Ford years ago. When we got on the AMSOIL, you'll see a little almost steam come out of the breather before we pull. Then everything seals up and you can tell the numbers pick up on the dyno. That was our dead giveaway on it. The fuel numbers went up so that was a big plus for us. We left it in for I think 15 pulls and we left it in through the whole time. Then we came here and we dropped it and put the real deal in and we saw a little bit more horsepower, so that was a little more of a bonus for us this year.
Have you used AMSOIL in the past?
We've used AMSOIL in the past, and we've now gone to running it in our dirt bikes. We use the 2-stroke oil, too. It burns real clean so we've been impressed with everything that they've had. We've had to kind of shop around for it but we end up getting it and that's all we've been running anymore.
* * * *
As of 2:00 p.m. Joe Carroll is still in the hunt.
-
http://newyorksecuritysystempros.com - www.philadelphiaroofingprofessionals.com - www.coloradotreesolutions.com - mechanicsthatcometoyou.com
Rss feed for website
Credit Repair
We're now on Facebook!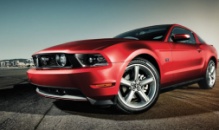 Buy at wholesale price!
Preferred Customers buy at dealer cost and save 25%!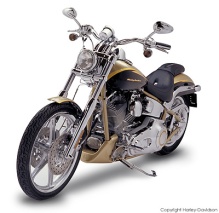 Not sure which products to get for your vehicle? Use the Vehicle Lookup Guide.
AMSOIL Distributor Opportunities
Start your own home business based on a proven superior product. Very low startup costs.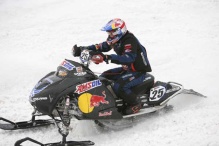 Sell AMSOIL products in your shop or store. Click here for information on AMSOIL retail accounts.

Does your business purchase lubricants for its equipment? Click for information about AMSOIL commercial accounts! Extend your equipment's life and reduce costs!